Key Features

Software Based System
The most cost efficient solution in the market

Nationwide Coverage of monitoring
National and regional data collection

Spectrum Monitoring and Management
Software solution for cellular and adjacent frequencies

Undisputed Data Accuracy
Data comes directly from the mobile radiation sources
The Radiation and QMM Monitor and Manager is a software based solution for performing national Cellular Spectrum, Quality of Service Key performance Indicators (KPI) and QoE (Quality of Environment) data collection and Compliance verification. This enables the regulator to ensure that quality of service for cellular telephony customers is maintained in accordance with commitments of operators (in license), identify specific areas of concern and enhance service to consumers.
Software Based System
Wave Guard Technologies' Quality Monitoring & Management System (QMM) is a comprehensive software based system. This unique patented technology minimizes the need for expensive hardware installation and maintenance.
The Quality Monitoring & Management System (QMM) is the most cost efficient monitoring solution, and as such minimizes the burden and cost of purchasing, operating, and maintaining, numerous hardware monitoring equipment at a national level.
Centralized National Mobile Radiation Monitoring and Management
The QMM monitors a vast number of designated locations while taking into consideration the relevant Radiation level (QoE), Key Quality Indicators (KQIs) and Key Performance Indicators (KPIs) from mobile telephone networks in the vicinity. Nationwide or designated locations are set remotely by the system's user (e.g. nationwide analysis or areas of public concern, hot spots)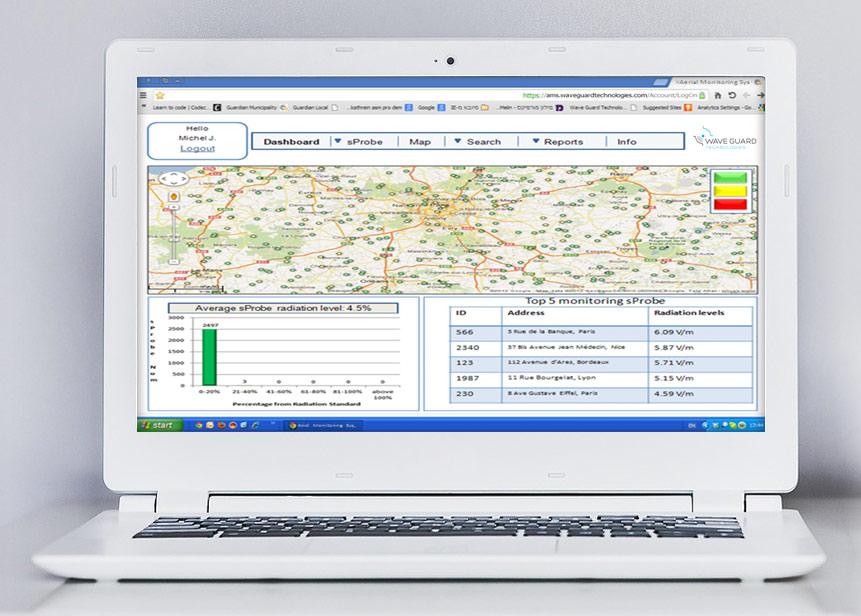 Radiation monitoring with software probes
Aerial Monitoring System (AMS)

The Aerial Monitoring System (AMS) is a national Online Continuous Radiation Monitoring and Management System of Multiple Mobile Sources Based on Software Probes (sProbe™). AMS gives location Based online data collection and Geographical representation of Emission Characteristics.

ASM is offered as a service for consumers or organizations who wish to monitor cellular radiation level at any location, any time at a click of a button. sProbe™ new location setting is as simple as pointing on a map and are set remotely and easily modified by the user.

AMS enable transparency of information to the public with great ease via website AMS is in accordance with guidelines from the following international organizations: The International Telecommunication Union (ITU) K-83 recommendations 2011 The International committee of Non Ionizing Radiation Protection (ICNIRP) 1998