Key Features

Real-time alerts
Get notification of breached quarantines

Historical search
Explore the historical paths of anyone

Accuracy
Highly precise
Beat the clock
When it comes to an epidemic, authorities want to make sure they can control it, contain it, and prevent it from spreading until a cure or a vaccine is available.
One of the best ways to contain an epidemic is to find potentially infected, contagious people to separate them from the public. More importantly, authorities need to trace their paths before they were diagnosed, letting them build a list of people who may have been infected to try to contain the epidemic as much as possible.
Unfortunately, epidemiological investigations usually rely on people's memory, and therefore are not accurate, are partial, and depend solely on the individuals' cooperation.
Containment Monitoring
One method to contain an epidemic is to send people suspected as carriers to quarantine. When it comes to a large number of people quarantined at home, authorities must monitor thousands or tens of thousands of people continuously and need to be alerted any time a quarantine is breached to prevent more spreading of the epidemic.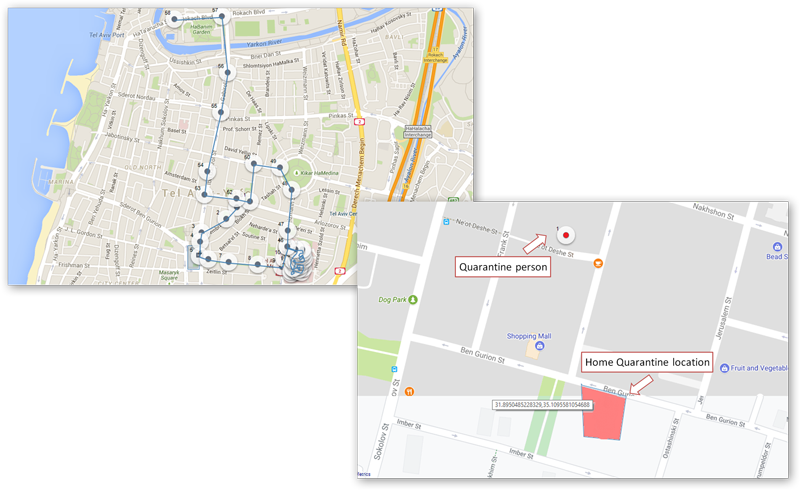 How can Wave Guard assist?
Wave Guard's Tracer offers real-time accurate location monitoring of the entire population for epidemic spread monitoring and protection, allowing national, state, regional, and local healthcare officials and governments to:
1. Retroactively reconstruct the locations of infected people to detect their infection paths and build the list of potentially infected people.
2. Monitor quarantined people in real-time, receiving alerts about any violations. Wave Guard's proven technology already successfully delivers the geolocation of dozens of millions of subscribers around the world for emergency services, mobile operators, and more.
3. Get real-time monitoring of quarantined areas (airport, point of entry, city, etc.) to receive alerts about violations (people coming in or going out).
4. Use real-time analytics to determine "patient zero" analysis and build an epidemic's "heat map."
Contact us for more information about Wave Guard's expert tracing and monitoring services for COVID-19.